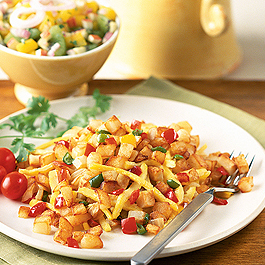 Courtesy of Idaho Potato Commission
Servings: 6
Prep Time: 15 Min.
Cook Time: 18 Min.
Home Fries
* 3 c. "Southern Style" frozen IdahoŽ potato hashbrowns, thawed
* cooking spray
* 4 eggs, slightly beaten (or 6 egg whites, if desired)
* 1/3 c. each, chopped red, green and yellow bell peppers
* 1/2 c. chopped onion

Fresh Fruit Salsa
* 1 whole piece of three of your favorite fruits (such as apple, mango and kiwi), peeled, cored and chopped
* 3 - 5 whole strawberries, sliced
* 1/4 c. finely chopped red onion
* 1/2 c. chopped cilantro (or 1/4 c. chopped parsley)
Home Fries
1. Drain the thawed potatoes on a paper-towel-lined cookie sheet; set aside.
2. Coat a large, nonstick skillet with plenty of cooking spray and warm skillet over medium heat until hot. Cook the eggs (or egg whites) until just cooked (but not overcooked), about 1 - 2 min. Flip skillet over on a clean cutting board, releasing cooked eggs. Cool eggs slightly and then cut into thin strips, approximately 1/4-in. wide by 3-in. long; set aside.
3. Spray skillet again well, and cook the potatoes over medium heat until golden, about 8 - 10 min., turning occasionally. Using a spatula, push the potatoes to one side of the skillet. Add the onions to the cleared portion of the skillet and cook them about 3 min. Push onions to the side with the potatoes and add the peppers; cook another 2 min., then stir cooked peppers, onions and potatoes together. Add egg strips and cook briefly to reheat
Serve mixture immediately, with fresh fruit salsa.

Fresh Fruit Salsa
Combine all ingredients in a small mixing bowl. Serve alongside Crispy Southwest Home Fries.

* Nutrition based on 1 serving of fries and salsa.

* Recipe courtesy of Idaho Potato Commission.
Calories: 224;
Total Fat: 7g;
Cholesterol: 147mg;
Total Carbs: 34g;
Protein: 7g;
Sodium: 95mg;